Updated: 11.22.2022
We are proud to annnounce:
Padraig & Annie have a litter due 
~ January 14, 2023 ~
Ready for homes around ~ March 11, 2023
Click on photos to see more about the parents.
Padraig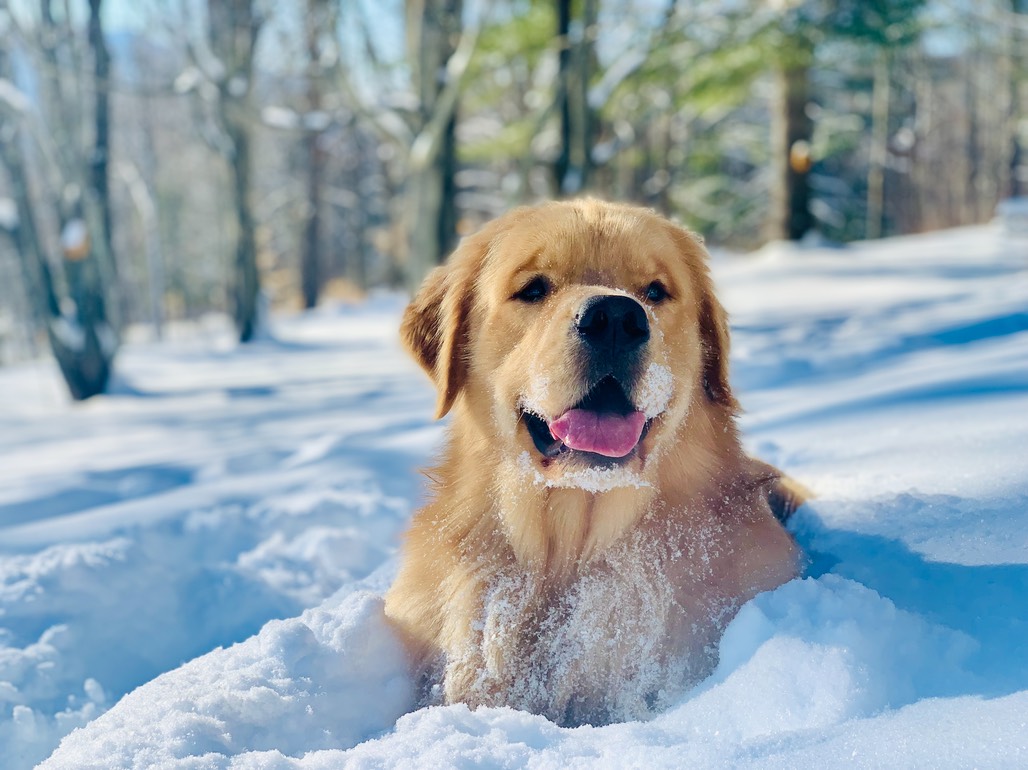 Annie
We do not keep "lists." 
Please do not email us asking us to put you on a list.
There isn't one.
If you live in the New England area 
and are interested in obtaining a puppy from us: 
Scroll and read all the way down to learn about our process.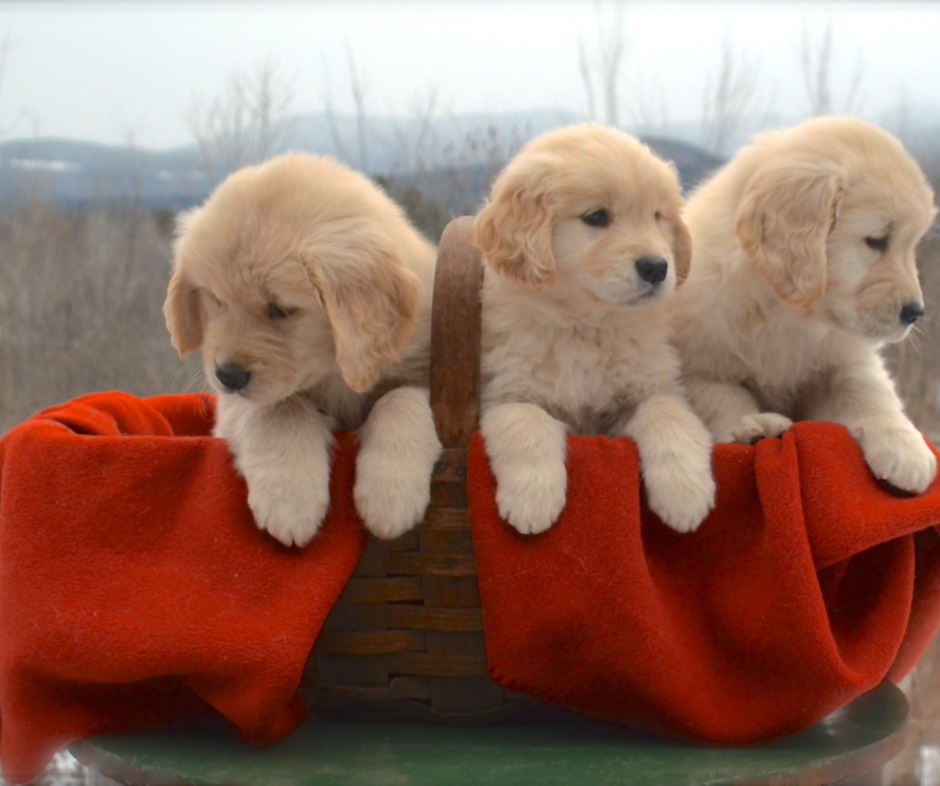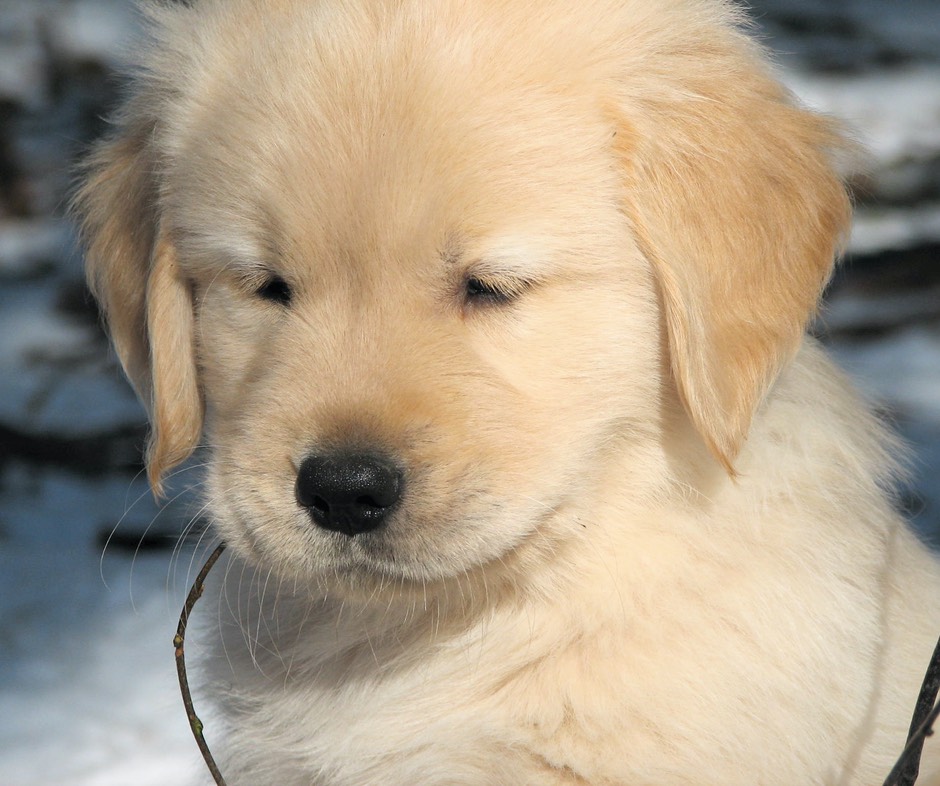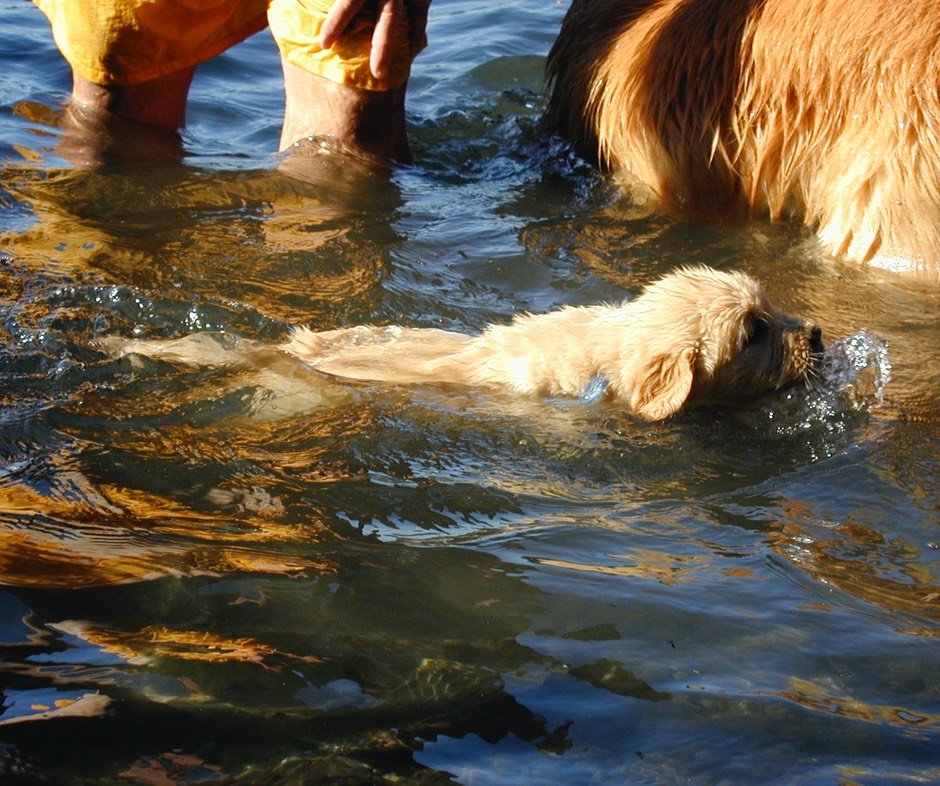 Interested in obtaining a puppy from us?
1.  Do you live in the New England area? 
We place puppies ONLY in the New England area: VT, NH, ME, MA, CT, RI and Upstate NY, not NYC. 
2.  Golden Retrievers are not couch potatoes!  They are active sporting dogs.  Do you have plenty of time to play, train, socialize and groom your athletic Butternut Golden? 
3.  Can you hold off on neutering your male pup until 3 years old? Or allow your female pup to have 1 heat before spaying? 
4.  Will you agree to train your dog to complete a AKC Canine Good Citizen Test?

5.  Have you seen the videos of our dogs on YouTube?
6.  Are you are interested in sending your Butternut Golden to Camp Butternut?
7.  Have you read this page in its entirety? 
About us and our process:
What is Butternut Hill Goldens?
We are a husband and wife team of conscientious hobby breeders of AKC Golden Retrievers in northern Vermont, USA.  We have been breeding since 1998.  We are proud members of the Golden Retriever Club of America.  We have 1-2 litters a year.  Our dogs are vital members of our family and all live with us in our home, not in kennels.  We participate in different venues depending on each dog's needs and talents -- including obedience, tracking, rally, hunting, showing and therapy work.  Butternut Hill seemed to be a fitting name for us. We live on a hill at the base of Butternut Mountain, with our butternut colored Golden Retrievers, who love to eat butternut squash.  This is not a profit business for us.  It is hobby of passion and labor of love for the Golden Retriever breed.
Our Breeding Philosophy
We love the Golden Retriever breed.  Through our breeding program we strive to promote the health, temperament, workability and the beauty of the breed by adhering to the Golden Retriever Breed Standard as defined by the Golden Retriever Club of America.  We feel it is important to retain the ability of the Golden Retriever to be multi-purpose.  Each breeding involves in-depth research into the parent's pedigree, genetics, health history, longevity, structure, work ability and temperament.  We adhere to breeding practices as recommended by the Golden Retriever Club of America.  Each parent selected for breeding has PennHip / OFA Hip clearances, Elbow, Heart and Eye clearances. 
Our Puppy Raising Philosophy
Our puppies are born and raised in our home.  We pride ourselves on providing a wholesome enriching environment with an strong emphasis on socialization to get puppies off to the best possible start.   Similar to the military "Super Dog Program," we perform Early-Neurological-Stimulation.pdf exercises as recommended by Dr. Carmen Battaglia.   Besides the important interaction with their mother and littermates, daily handling by us, additional enrichment activities begin at a very early age.  Our socialization include exposing them to a variety sights, sounds, smells, tastes and touches, which we feel allows them to better cope as an adult dog. 
Our puppies get to experience a variety of footing such as blankets, sheets, wood floors, tile floors, decking, carpeting, short grass, long grass, concrete, gravel, puppy agility equipment and sometimes snow.  They are exposed to toys of all shapes and textures.  They get to experience a variety of sounds from our household on a daily basis -- humans conversing, big dogs playing, television or radio playing, vacuum cleaner, washing machine, clothes dryer,  dishwasher, front door slamming, etc.  We believe in providing a variety of challenges such as climbing steps, going through a tunnel, playing follow the leader, learning to come to a whistle.  We trim the puppies nails weekly.  When the puppies are old enough, we begin the foundation for house training by taking the puppies outside as soon they wake to relieve themselves. 
All of our puppies are nurtured as part of our family pack.  As they mature they interact with our adult dogs and household cat.  The pups are exposed to car rides and short field trips to new safe experiences.  And if the season and weather allows -- an opportunity is given to the puppies to go for a swim in a clean, quiet Vermont pond.
Responsibility of Socialization Continues
We strongly encourage new owners to continue socialization throughout the puppy's young life. We recommend going places with your Golden Retriever to dog friendly hardware or lumber stores, romp in open fields (with the landowner's permission), enroll in a Puppy Obedience and Basic Obedience class.  These activities will help give the puppy a chance to experience new things and meet new people.  Care should be taken that these controlled experiences are positive, and do not the put the puppy in a risky situation with unknown dogs.  We recommend staying away from dog parks, especially until your puppy has become fully vaccinated.
Waiting to Spay or Neuter your Golden Retriever
In our puppy contract you agree to allow your female Golden Retriever to have one heat or to wait to neuter your male Golden Retriever until after 2-3 years old.  Why?  The latest studies on the effects of spaying or neutering your dog reveal many reasons:
Study Evaluates Early Neutering and Spaying in Golden Retrievers
UC Davis News and Information - Golden Retriever Study Suggest Neutering Effects Dog's Health
Is the Golden Retriever Breed right for you?
Before deciding on acquiring a Golden Retriever it is important to become knowledgeable about the strengths and weaknesses of the breed.  A Golden Retriever is not for everyone   Is a Golden Retriever a compatible match for you?  Goldens require a good amount of daily exercise, personal time, training and grooming.  This breed is happiest when they are at your side or when they are working with you.  As a breeder and owner, there are several health issues with the breed that concerns us.  We recommend you read the following attachment from the Golden Retriever Club of America to become informed buyer: Information About Golden Retriever Health.
Still interested?
1.  Submit an application — we are accepting applications now. 
2.  Submission of an application does not guarantee you a puppy. 
3.  Have patience. 
4.  After puppies arrive we will call potential homes for an initial interview.

5.  Have patience.
How do you reserve a puppy?
We will notify you if you have been selected for a puppy, a week or two after the puppies are born.  Once notified, reserve your Butternut Golden by submitting a deposit of $1,000. The total cost a puppy is $3,000 plus 6% VT sales tax.
What is the process of choosing a puppy?
The choosing process is a collaborative effort, but in the end we have the final say.  We spend a lot of time with the puppies.  We get to know each puppy's personality & energy level very well.  It is our aim to place each puppy in the most appropriate home. We hope to learn more about your lifestyle and abilities.  We welcome and take into account this feedback into the final "selecting" of puppies. The decision for puppy placement is made around 8 - 9 weeks old — after the puppies have had their temperament test, breed structure evaluation and veterinarian health check.
What else can you expect?
Each puppy will have received first set of vaccinations against parvovirus and distemper.  We recommend following Dr. Jean Dodds "Minimal Vaccination Protocol" and urge you to learn more about this beneficial vaccination schedule.  Each puppy goes home with our custom Puppy Packet, which includes AKC registration, Litter Pedigree, veterinarian health check, photos of parents, copies of the parent's health clearances, a sales contract, information on puppy training, worming, vaccinations, a toy with mother's scent, a chew toy for the ride home and enough food for a few days.  You can also expect a lifelong breeder relationship and support.
Butternut Golden Retrievers will always have a home:
If, for any reason, you find yourself unable to care for your Butternut Golden there is no need to ever relinquish your dog to a shelter or rescue.  No matter the circumstance, we will provide a loving home for every puppy we've produced. Per our contract, we reserve the right of first refusal.
Questions?  Call Dana at 802-635-7377 
Live outside our area?  Check out:
Golden Retriever Club of America
Contact you local Golden Retriever Club 
for help in locating a reputable breeder near you:
https://grca.org/find-a-golden/begin-the-search/
https://autumnvalley.org/
http://www.crvgrc.org/

https://hvgrc.org/main/
https://www.mainegoldenretrieverclub.org/

https://nenygrclub.info/
http://www.sbgrc.org/
http://www.yankeegrc.org/
: : Some of our Favorite Links : :
Puppy Possibilities - A comprehensive, illustrated guide to a puppy's 1st year of schooling
Dr. Patricia McConnell - Your source for science and soul in dog training and behavior
Puppy Socialization - Rules of Many
Canine Nutrigenomics - The new science of feeding your dog for optimum health
Dr. Jean Dodds' Vaccine Protocol
NUTRISCAN: Salivary Diagnostic Test for Food Intolerance
K9data Pedigree Database: www.k9data.com
Orthopedic Foundation For Animals:  www.offa.org
Infodog: www.infodog.com

Clubs
American Kennel Club:  www.akc.org
Burlington Obedience Training Club:  www.botcvt.org
Champlain Valley Kennel Club: www.cvkc.org
Golden Retriever Club Of America:  www.grca.org
Green Mountain Dog Club: www.greenmountaindogclub.org
Lake Champlain Rettriever Club:  www.lcrcvt.org
Tracking Club of Vermont:  www.trackingclubofvermont.org
Woodstock Dog Club:  www.woodstockdogclub.org
Yankee Golden Retriever Club:  www.ygrc.org
Yankee Golden Retriever Rescue:  www.ygrr.org
The GRCA provides puppy referral as a convenience to puppy buyers to find out about breeders who are GRCA members and their litters. GRCA takes no responsibility whatsoever for any puppies/dogs that you may acquire through GRCA puppy referral. GRCA is not responsible for any breeder's sale practices and sales contracts, nor will GRCA be involved in any manner in contract disputes between puppy buyers and breeders. Availability of puppies and conditions of sale are at the sole discretion of the individual breeder. Buyers are encouraged to read ACQUIRING A GOLDEN RETRIEVER, as found on the grca.org web-site, for general information about obtaining a puppy, to take as much time as necessary to locate a reputable breeder from whom they feel comfortable purchasing a puppy, and to investigate breeders and their puppies thoroughly before committing to a purchase. You are not obligated to purchase a puppy from the breeders whose names you obtain from GRCA puppy referral.